Okay I've talked about some of these before but honestly not much because no one else really talks about them : ( but here I am talking about them and you can join meee! Some of these really get into why they should deserve more and some don't but that doesn't mean they don't deserve it! OKAY?!
---
Barriss Offee
Alrighty this character has been my fave since I was a smol child, no cares in the world except for Star Wars. Literally, when I was 10-12? That was the PEAK of my career as a Star Wars mega-fan. I binged all the Clone Wars episodes with my brother and the whole show is just kinda special to me. And yeah, I thought Ahsoka was great, it's really Barriss who captured my heart. So yeah. When she betrayed Ahsoka I was SO MAD like actually REALLY MAD it just ruined me. But she honestly was a bit of a role model for me (up until the whole turning evil thing).
---
Doc Ock (Spider-Verse)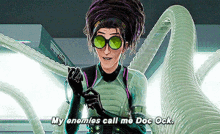 I actually really didn't like Doc Ock in the movies and this lady totally turned the character around for me. She just… she's more relatable? And she has a passion for science and she's insane, yeah, but she's also calm and cool about it. It's just great. I love her. She's honestly kind of soothing (sounds weird but like how many villains can you say are soothing ahahha)
---
Percy Weasley
First of all, his hair is literally the best thing ever. Second of all, he's a Slytherin. Fight me. Third of all, yes, he may have been rude to his parents, but really? He had the opportunity of a LIFETIME (working with the MINISTER and A BUNCH OF OTHER COOL PEOPLE) and Mr Weasley should've been HAPPY for him! Mr and Mrs Weasley are actually kind of problematic but y'all aren't ready for that conversation yet.
---
Martha Jones
OKAY. MARTHA. YES. OOH. I ACTUALLY ENJOY HER EPISODES MORE THAN THE ONES WITH ROSE. (even tho I love Rose, but I loved Martha first) And honestly, even though I've seen exactly one episode with Donna, she's a bit annoying. Y'know, with all the yelling? Tho I'm sure she gets better about that. But Martha? She's cool and she's not scared to tell the Doctor what she thinks and yeah she has a silly crush on the Doctor at some point, but like…. so does everyone else? Like I don't blame her xD. Anyway she's not reduced to that and tho I haven't finished 10, I'm pretty sure she comes back, which is very cool, and I can't wait to see that. But anyway she's not scared to jump in and help and tho she does absolutely get scared she has courage and she just… she makes things so much better for everyone? And also that episode…. uh… Family of Blood I think? She puts up with being a maid and being treated as lEssEr because all she does is clean- even by the Doctor himself– because she knows it's for the greater good and she has SO MUCH PATIENCE AHHHH THIS GIRL anyway just SO MUCH she gives SO MUCH and the Doctor does NOT appreciate her enough! He's too busy mourning Rose (like, yeah, ik he loved her, but like… she's not dead. Yeah, you "won't" get to see her again, and I understand that it's sad, but like… you can't just ignore everyone else!) and even tho, yeah, they're good friends and they do a lot for each other and enjoy each other's company, he just doesn't see the extent of what she does for him. And I guess that's part of her character? But anyway this turned into a monstrously long rant, but the point is, Martha is incredibly overlooked and did SO MUCH for the show and she deserves so much better.
---
Barty Crouch Jr
while yeah david tennant did a fantastic job there's more than that- he's super clever and smart like he did that!! Dumbledore suspected n o t h i n g!
Okay, yeah, maybe slightly biased because as you all know David Tennant is one of my favorite actors (up there with Harrison Ford, Carrie Fisher, and the queen herself, Zendaya) BUT in this I'm going to be talking about Book BCJ. Because he. Is. Fantastic. So basically, he fools the entire hogwarts staff (most of which are involved with The Order of the Phoneix) also a former death eater wHO CAN READ MINDS, government officials, hIs OwN fReAkInG fAthER, and many many more AND DUMBLEFORE HIMSELF! He FOOLED THEM ALL! He spied on the school for Voldemort and successfully brought Harry to the graveyard and basically caused Voldemort to return! HE DID ALL THIS UNDER THE DISGUISE OF MAD EYE MOODY, USING POLYJUICE POTION, WHICH IS INCREDIBLY DIFFICULT TO MAKE APPARENTLY (tho Hermione did it in 2nd year so it can't be tHAT hard) BUT HE DID IT AND HE KEPT HIS DISGUISE UP PERFECTLY! And he probably was a terrific actor too- keeping up with all of Moody's weird habits and stuff. He's just incredibly clever and while Voldemort probably helped, he still did it. Oh and don't forget that he took down Mad Eye Moody, one of the most paranoid Aurors ever. It's no easy feat.
---
Molly Hooper
Alright. Molly. First of all, she is one of the few people who can "read" Sherlock. And she's there for him! Even after he's been an incredibly bratty barbie doll on drugs, she's still there for him. And Sherlock cared for her too- and honestly needed her. He gave up drugs because of her! She doesn't just lie down and take all of Sherlock's crap, but she stands up for herself. And also she stabbed her boyfriend with a fork once. That was epic. OH ALSO SHE DATED FREAKING MORIARTY OKAY? THAT'S A FEAT WITHIN ITSELF. I feel like people just write her off as "weak" because she's small and awkward and has like, actual feelings? SHE LITERALLy WORKS IN A MORGUE
---
BUT YEAH ALL OF THESE NEED MORE LOVE IT'S SO SAD AND THEY DEFINITELY DESERVE IT. DO YOU AGREE WITH ME? WHICH OF THESE CHARACTERS HAVE YOU DEVOTED YOUR HEART TO? TELL ME EVERYTHING!!