Thank youuu, Aria!!!
Since I've technically done this before, I'm going to change it to… CHARACTERS I DON'T LIKE VERY MUCH/HAVE MIXED FEELINGS ABOUT/ LOATHE ENTIRELY
---
The Rules
Take 5 or more of your favorite book characters and imagine what they would be doing if they were quarantined with us in the real world.
You can have them be in their own squad if you want, or working on their own.
Tag 5 friends.
Link back to this post and credit Reader Voracious.
---
1- Ms Jenn from HSMTMTS
I HATE THIS WOMAN SO MUCH. UGHHHHHHHHHHHHHHHHH I KNOW I HAVEN'T REALLY TALKED ABOUT IT ON HERE, BUT JUST WAIT. I AM DOING AN IN DEPTH SOMETHING ON HSMTMTS AND I HAVE NOTES ON THIS WOMAN. (hint:: she's a pedophile, probably) (I've only watched 5 episodes and I've gotten that vibe) (ANYWAYY)
She'd have the cringiest zoom calls with her students ever! She'd make them sing "We're all in this together" to close out the zoom call. Oh and she'd post those fakey coronavirus cure things on Facebook. And she'd insta live about cleaning out her closets and also spend her time looking up hot pictures of Timothee Chalamet to drool over with her roommate Hallie, who goes by Halz.
I hate this woman
---
2- Umbridge
I HATE HER but actually not as much as Ms Jenn surprisingly?? Like she sucks but doesn't fill me with the amount of unbridled rage as that absolute scrap of three day old tobacco spit.
Umbridge would just hem hem herself a storm, watching cat videos on wizard TV all while knitting Cornelius Fudge frilly pink grannie-panties for him to model later.
---
3- Captain America
Mixed feelings still. I love him in Endgame, but like… in some of the movies? *COUGH COUGH* civil war *COUGH COUGH* I would really like to punt him off a train.
He'd honestly spend quarantine by not quarantining? Like he'd be like "oH i'M a sUpEr sOldIeR tHe cOroNavIrUs doEsN'T aFfEcT mE." And Bucky would be like "excuse you get back in the house" and throw plum pits at his unmasked face. BUCKY WOULD BE THE BEST QUARANTINER EVER OKAY? Anyway Cap would spend his quarantine being the ultimate boomer.
(I may or may not have made this just for this post)
(and yes ik it's awful editing hahah that's on purpose)
---
4- Jar Jar Binks
Ok I don't really hate Jar Jar- he's annoying, yeah, but honestly he's fine. Idrc. I mean I don't like him but don't absolutely hate him.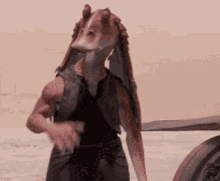 Honestly he'd be pretty chill? He'd probably break a million things but that's just him. He'd just vibe in his shower and talk politics on his reddit account. He wouldn't be tempted to go party because he has no friends to party with.
---
5- Gabriella
She'd sneak out to see Troy/ sing duets from miles away with him. UGH I really don't like her. LIKE GABRIELLA IS SO TOXIC, THE CORONAVIRUS WOULD DIE FROM HER. Anyway she's the worst and Troy deserves better. (except that whole "T for TrOY" thing). She would not quarantine at all. Probably would go party as rebellion against her parents. "no, MOM, I have to make my oooooown decisions, even if those decisions mean HALLOWEEN IS FREAKING CANCELLED THIS YEAR!" (omjgomjgomjg now I'm sad ughghg)
---
I tag
and
becAUSE
they are procrastinating as much as I am and probably need a post to inspire them, just like I didddd xD
---
WHAT WOULD YOUR LEAST FAVORITE CHARACTERS DO IN QUARANTINE?? WHAT'S YOUR FAVORITE WAY TO EAT CARROTS? DID YOU EVER HEAR THE TRAGEDY OF DARTH PLAGUEIS THE WISE?