Okay, first, here's some Alice in Wonderland gifs.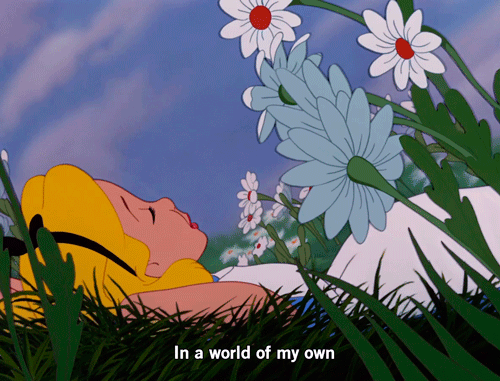 A Little Haze Book Blog– thank you so, so much for tagging me!!
---
The Rules
Thank and share the link of the blogger who has shown love to you by nominating you for The Unique Blogger Award
Answer their three questions
In the spirit of sharing love and solidarity with our blogging family, nominate 8-13 blogs for the same award and ask them three new questions
---
My three questions
1 What is your favourite type of blog-post to write?
I love creating my own tags, talking about my writing, and just screaming in general??? But most of all I LOVE writing monthly wrap-ups.
2 Who is the person that has most inspired you in your life?
Um… I don't know? No one, really. Is that bad? Um, maybe Robin Hood? I DON'T KNOW.
3 Name one author (or twenty…lol we are all book addicts here!) whose books you are always excited to read.
#1 C. G. Drews (paperfury!!!)
Her book will DESTROY anyone- even those with shriveled moldy apples as a heart.
#2 Roald Dahl
HIS BOOKS. I'VE READ ALL OF THEM (??) AND I'M GONNA DO A BINGE OF ALL HIS BOOKS SOON BECAUSE I love THEM WITH ALL MY HEART
#3 Holly Black
AMAZING FANTASY WORLD OMJG and also AMAZING CHARACTERS even if the plot *can be* a bit iffy.
#4 Suzanne Collins
I am PUMPED for the Hunger Games prequel. I will 76538201% preorder as soon as I can.
---
ppl i tagged
---
the questions for yall
1 Do you write? (give us some details if you do)
2 FANTASTIC comic books: as many as you can
3 If you could change any one scene in Harry Potter, which would you choose and why?
---
Have fun, y'all (if you do it. if not, have fun anyway I guess?)