I was tagged by the magnificent Prabhleen (thank youuu!)
I don't usually listen to Taylor Swift… okay basically never but I did listen to a couple of her new songs and they're okay??? I really liked her reputation album (#slytherin).
Anyway I feel underqualified but am I going to do it anyway? Yes, yes I am.
---
rules: 
1. link back to the original creator of the book tag Nish and Ngoc (ahhhhhh thank youu)
2. thank the person that tagged you and link to their post
3. TAG AS MANY SWIFTIES AS YOU WANT! (Or non-Swifties, maybe inspire them to listen to our Queen) (I don't know any swifties here so I'm just going to tag random ppl ahaha)
---
I Forgot That You Existed – a book that you want to forget you ever read
I keep saying this but THE THOUSANDTH FLOOR SERIES. OH MY GOODNESS I HATE THESE BOOKS SO MUCH I WILL SHOUT IT FROM MOUNT EVEREST.
---
Cruel Summer – a book you turn to when the going gets rough
Awwwww there are so many but the Harry Potter series (cliche I know) are definitely ones I read when I need some comfort.
Especially Harry Potter and the Chamber of Secrets because I love Gilderoy.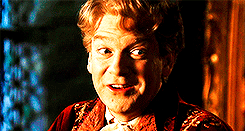 ---
Lover – your book otp
OHHHHH
MYYYY
GOOOOOOOOODDDDDNNNNNEEEESSSS. Too many. WAY too many. Ahhh okay.
First one that comes to mind is Ashlet but NO that's my book and no one can flail with me because they haven't read it yet *cries*
In *actually published* and *loved* books… Hmm… I really love Kaz and Inej. Even though she touched him without permission and set off a panic attack or something I STILL LOVE THEM because they help each other take more steps from their problems. Kaz *spoilers I'm sorry* eventually can touch her without his gloves near the end because they worked up to it and ahhhhhhhh my heartttttt.
---
The man – your favourite kick-ass female protagonist
OOOH! OOH!
KATNISS EVERDEEN OMG I LOVE HER SO MUCH!
AND NANCY DREW SHE WAS MY CHILDHOOD HERO
---
The archer – a book with good mental health representation
OooooOooOoOooOooooOooOooOooh hmmmmmm…. I don't know if I can qualify because I only have anxiety which isn't very hard to write ahhah ummm… I mention this book a LOT but The Boy Who Steals Houses. I have an autistic friend and it lines up very well with how she reacts to situations and how Avery reacts. Yes. It's very well done which is why I TALK ABOUT IT ALL THE TIME ahahahaha these books ruin me.
---
I think he knows – your fave fictional crush
My fave fictional crush? I have a million so HOW CAN I CHOOSE? *sees rescue from hell* *sneakily adds all fictional crushes to another question*
Um I really love Klaus from A Series of Unfortunate Events.
He's such a Ravenclaw.
aND ALSO HEARTHSTONE MY SMOL DEAF ELF (I'm actually taking sign language because of him ahahah… weird thing was I'm not the only one in my class taking ASL because of him…….)
---
Miss Americana & The Heartbreak Prince – fave angsty romance
ooooooooooooooooooooooooooooooooooooooooooooooooooooooooooooooooooooooooooooooooooooooooooooooooooooooooooooooooooooooooooooooooooooooooooooooooooooooooooooooooooooooooooooooooooooh.
Enemies-to-lovers, right?
Okay. ahhhhhh. Okay. Calm.
I'm just gonna have to say Cruel Prince for this one.
I know everyone says it.
but I love it too much.
THEM

ME
---
Paper Rings – book with an ugly cover that you absolutely adored
Six Months Later by Natalie Richards. I love Natalie Richards books soooo much THEY ARE SO UNDERRATED!
---
Cornelia Street – a book or series you never want(ed) to end
Six of Crows, Illuminae Files and The Hunger Games. I loveeeee the Hunger Games and I have loved it since I was 10? I don't know. But I didn't want it to end aND THERE'S SUPPOSEDLY A PREQUEL???? ANd I still haven't finished the Illuminae Files… even though I own the series I just have trouble finishing series (see my Doctor Who watch history for more info)
AND SIX OF CROWS I STILL NEED MORE THERE IS MORE TO WRITE I DON'T CARE IF IT'S JUST THEM TALKING ABOUT CROWS AND PANCAKES WHILE PLAYING CLUE I JUST NEED MORE. OKAY?!
---
Death By A Thousand Cuts – book or series that deserved a better ending
Trials of Apollo.
Piper should've died. I hate Piper. I'm sorry, but they kill one of the BEST characters and leave one of the WORST?! SERIOUSLY? She is the Kane Chronicles of characters.
---
London Boy – your fave British male protagonist
I can never tell if they're British because I forget character descriptions (NOTE::: character descriptions should be backed up by the entire book so the reader can remember their hair colour, okay?)
SO I'm just going to say………………………………………………………………………………….
HARRY FREAKING POTTER!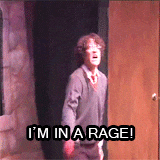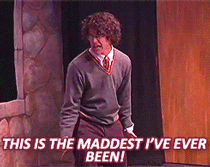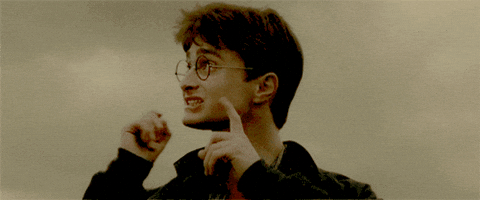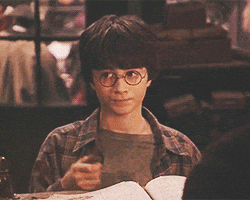 Harry just needs a break.
---
Soon You'll Get Better – a book that your heart will never recover from
All the Bright Places. I loved this book so much ahhh so cute ahhhh some people hate it but I love it so AhhhahHAHha.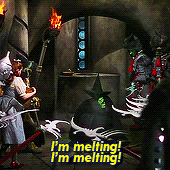 ---
False God – a character you would leap into the burning pits of hell to save
*clears throat*
Hello, ladies and gentlemen, my powerpoint is called Characters I Would Die For and Why. I would suggest you get comfortable, because my presentation is nine hours long.
Here's the beginning of my list
HEARTHSTONE: (mentioning him yet again) he's a smol little elf and ughughughughghuhgughughughughugh I would save him from literally anything ahh omgbaiufbtghysjbngnbyjbhvfgtfvcedft5rgrfguynjhm
RUSH WILDER (my literal son): Y'all don't know much about him but he's such an adorable hufflepuff I love him so much (the first character I wrote in my book, I think??)
LUNA LOVEGOOD: c'monnnnn. IT'S LUNA LOVEGOOD.
REV FLETCHER: I have yet to read his book but I read Letters to the Lost and omg I fell in love.
BECK KEVERICH: ughhhhhhhhgggggggggggggggggggggghhh this list is bringing out all the feels
WYLAN VAN ECK: HE # NEEDS # A # BETTER # FATHER#
QUEENIE GOLDSTEIN: she'd be my best friend and OMG that ending to CoG made me cry ughhh poor Queenie I'm sorry AHHh.
These are only a few if I actually sat down and thought about it you would actually have a nine hour blog post I'm not even joking.
---
You Need To Calm Down – a book with a powerful message
If I'm Being Honest was a really good book and it was about a girl who was a total jerk to everyone but it showed her changing but messing up and not changing and ahhhh so well done! I thought it had a very important message.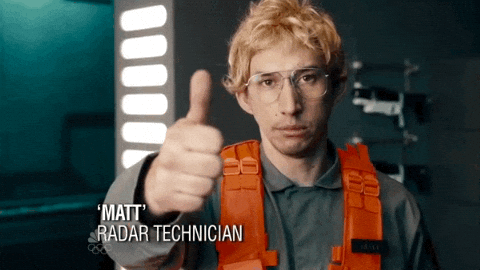 ---
Afterglow – a book you want to give a second chance
Anne of Green Gables. My mom has the entire series and I don't want to just leave it there but I just. Can't. Finish. It. I've tried SOOOOOOOOOO many times but I have never finished it. Ever.
---
ME! – best character development
The only one I can think of is MCU Captain America, but he's not in a book.
*thinks*
I really liked how Neville went from a dorky side character to the leader of a rebellion against Voldemort?? Didn't see that coming and I was SOOOO happy! I love that ending bit where they break Voldemort's spell and when he's wearing the sorting hat and all that. IT. WAS. BEAUTIFUL.
look how cute ahhhhhhhhh
---
It's Nice To Have A Friend – fave friends-to-lovers story
Windfall. or You Owe Me A Murder (I'm counting it) I'm not going to really get into this but OH MY GOODNESS ALEX (YOMAM) IS SO MATURE FOR MOST YA BOYS OMG I WAS SHOCKED AND PLEASANTLY SURPRISED.
---
Daylight – if you could only read one book or series again and again, what would it be?
The Percy Jackson series: all of them. Every single book Percy Jackson appears in. Including the Magnus Chase series.
Is this cheating? Yes.
Do I care?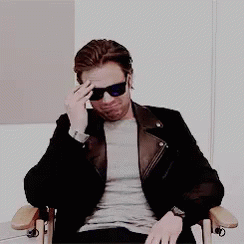 ---
TAG
AND YOU, ONE OF MY 43 READERS
---
THANK YOU FOR READING! THANK YOU, PRABHLEEN FOR TAGGING ME! ASK ME LITERALLY ANYTHING AND I WILL MOST LIKELY ANSWER UNLESS *STUFF COMES UP
Apparently there are Doctor Who/Harry Potter edits so here's a gif from that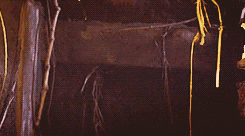 *
---