HI. I hope you're having a great summer/end of school! (maybe even beginning? Middle?)
Anyway, I am at 90 books on Goodreads. 90/100.
I'm going to change this thingymabob to 200. Maybe even 250. I had no idea this would be so easy!
Anyway, here are a few of my favorite books I've read so far.
---
The Blood Spell by C J Redwine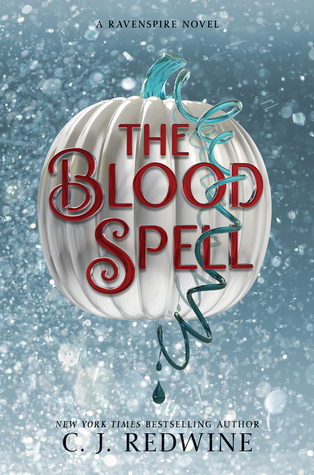 GOODREADS SUMMARY:
Blue de la Cour has her life planned: hide the magic in her blood and continue trying to turn metal into gold so she can help her city's homeless. But when her father is murdered and a cruel but powerful woman claims custody of Blue and her property, one wrong move could expose her—and doom her once and for all. The only one who can help? The boy she's loathed since childhood: Prince Kellan.
Kellan Renard, crown prince of Balavata, is walking a thin line between political success and devastating violence. Newly returned from boarding school, he must find a bride among the kingdom's head families and announce his betrothal—but escalating violence among the families makes the search nearly impossible. He's surprised to discover that the one person who makes him feel like he can breathe is Blue, the girl who once ruined all his best adventures.
When mysterious forces lead to disappearances throughout Balavata, Blue and Kellan must work together to find the truth. What they discover will lead them to the darkest reaches of the kingdom, and to the most painful moments of their pasts.
When romance is forbidden and evil is rising, can Blue save those she loves, even if it costs her everything?
MY REVIEW/RANDOM THOUGHTS:
This is a Cinderella retelling that you don't know is a Cinderella retelling because of all the cool violent stuff. And illegal magic. And alchemy. And potions. 
FAVORITE CHARACTER: 
Kellan. Obviously. The daredevil prince.
WHAT I LIKED:
Nessa. I loved how Kellan told Delilah "no I'm not considering your daughters cause they can't speak sign language to my sister." That was my favorite part. 
WHAT I DISLIKED:
The alchemy was kind of irrelevant but it was still cool??? #dubious
ROMANCE (IF ANY) IN A GIF:
*kisses* *I still don't like you let's keep hating each other* 
RATED ON A SCALE OF BONDED POISON TO APPLE CAKES:
Pepperell. (about 9 3/4)
---
Fiendish by Brenna Yovanoff
GOODREADS SUMMARY: 
Clementine DeVore spent ten years trapped in a cellar, pinned down by willow roots, silenced and forgotten.
Now she's out and determined to uncover who put her in that cellar and why. 
When Clementine was a child, dangerous and inexplicable things started happening in New South Bend. The townsfolk blamed the fiendish people out in the Willows and burned their homes to the ground. But magic kept Clementine alive, walled up in the cellar for ten years, until a boy named Fisher sets her free. Back in the world, Clementine sets out to discover what happened all those years ago. But the truth gets muddled in her dangerous attraction to Fisher, the politics of New South Bend, and the Hollow, a fickle and terrifying place that seems increasingly temperamental ever since Clementine reemerged.
MY REVIEW/RANDOM THOUGHTS:
Clementine got stuck in a basement for a reaaaaallly long time until her "Prince Charming" saves her! Yayyyyyy. Oh yeah they "fall in love." But this book was amazing (minus the romance) 
FAVORITE CHARACTER: 
OOooohhh… *crap I forgot her name* I think it's Davenport. Anyway, she's my favorite. 
WHAT I LIKED:
The actual concept of the book. SOUTHERN!!!!! *I live there!*
WHAT I DISLIKED:
The Fisher/ Clementine thing. I mean, he did save her, but no. No shipping here. 
ROMANCE (IF ANY) IN A GIF:
Finn/Rey: Readers
Kylo: Romance
RATED ON A SCALE OF SEWN EYELIDS TO CLEAN CLOTHES:
Poison flowers (7.5) It was an amazing read even though the romance was *NO*
---
Entwined by Heather Dixon Wallwork:
GOODREADS SUMMARY:
Just when Azalea should feel that everything is before her—beautiful gowns, dashing suitors, balls filled with dancing—it's taken away. All of it. And Azalea is trapped. The Keeper understands. He's trapped, too, held for centuries within the walls of the palace. So he extends an invitation.
Every night, Azalea and her eleven sisters may step through the enchanted passage in their room to dance in his silver forest, but there is a cost. The Keeper likes to keep things. Azalea may not realize how tangled she is in his web until it is too late.
MY REVIEW/RANDOM THOUGHTS:
So basically they are forced to mourn for a year, taking away their favorite thing to do: dance. Well, since this is a 12 dancing princesses retelling… THEY FIND A PASSAGE AND DANCE. but with a twist. *evil* *more evil* *screams evilly* 
FAVORITE CHARACTER: 
Ohhhhhhfffff: Clover. Bramble. Mr. Bradford??? Mr Bradford. I CAN'T CHOOSE. 
WHAT I LIKED:
How girly all the princesses are while being normal and relatable. A+ writing. 
WHAT I DISLIKED:
They were kinda idiots and passive BUT WHO CARES?? I mean, not all girls are independent and cunning and free-spirited. 
ROMANCE (IF ANY) IN A GIF:
*SPOILERS* 
Clover/Fairweller:
Bramble/Lord Teddie:
(This is basically their romance)
Azalea/Mr Bradford: 
Mr Bradford: You look pretty
Azalea:
Azalea/Keeper:
RATED ON A SCALE OF BROKEN SLIPPERS TO AMAZING FANTASY:
Those adorable sugar tongs (8.5)
---
THANK YOU FOR READING!!!
My schedule will be CRAZY this summer because I have…. stuff.
Plus another sibling being born. *There goes my already fragile sanity* 
---