Let's get GOING. NO intro just onto BOOKS. 
---
Fangirl by Rainbow Rowell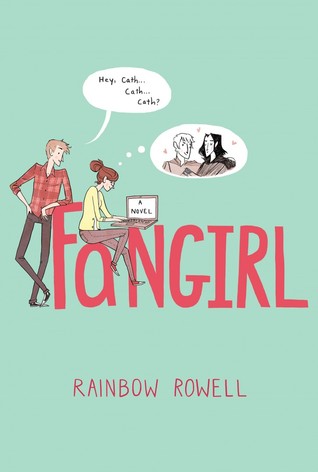 Summary: 
Cath is a Simon Snow fan.
Okay, the whole world is a Simon Snow fan.
But for Cath, being a fan is her life—and she's really good at it. She and her twin sister, Wren, ensconced themselves in the Simon Snow series when they were just kids; it's what got them through their mother leaving. Reading. Rereading. Hanging out in Simon Snow forums, writing Simon Snow fan fiction, dressing up like the characters for every movie premiere.
Cath's sister has mostly grown away from fandom, but Cath can't let go. She doesn't want to.
Now that they're going to college, Wren has told Cath she doesn't want to be roommates. Cath is on her own, completely outside of her comfort zone. She's got a surly roommate with a charming, always-around boyfriend, a fiction-writing professor who thinks fan fiction is the end of the civilized world, a handsome classmate who only wants to talk about words… And she can't stop worrying about her dad, who's loving and fragile and has never really been alone.
For Cath, the question is: Can she do this? Can she make it without Wren holding her hand? Is she ready to start living her own life? Writing her own stories?
And does she even want to move on if it means leaving Simon Snow behind?
My summary/thoughts: 
Fangirl is a book about a… well… Fangirl. Cath loves Simon Snow, a Harry Potter-type series. Cath writes fanfiction about it which is a touchy subject for her. Her sister is a jerk. Nick is a jerk. Her social anxiety and college and all these jerks in her life make things DIFFICULT as heck. She meets an adorable boy and they fall in love and stuff happens and THE LAST SIMON SNOW BOOK COMES OUT. AND SHE AND HER ADORABLE BOY READ IT TOGETHER HOW SWEET. 
What I liked about it: 
It's just so freakin relatable guys. The anxiety was written masterfully. The Simon Snow excerpts make me want to read it (and now she's writing the series apparently- the second book is coming out soon) 
What I disliked about it:
Most, if not all, the characters were annoying. I dislike annoying characters in books cause you can't get away from them until you finish the book. 
Favorite character: 
Simon/Baz (not technically characters of the book, but the book within the book??? I just really liked the excerpts.) 
Romance (if any) in a GIF: 
Rated on a scale from Why'd I even read it? to I WANT TO BUY A COPY!!!
Errmmm… about an eight aka I'd read this while eating dessert.
(Idk if it's just me, but I will only read good books while eating dessert. I mean I'll read the book alone, but if I'm going to be reading while eating ice cream, it better be a good book.  I guess so I can enjoy both things at once? Try reading an awful book with cake. It's not very fun) 
---
These Shallow Graves  by Jennifer Donnelly
Summary: 
Jo Montfort is beautiful and rich, and soon–like all the girls in her class–she'll graduate from finishing school and be married off to a wealthy bachelor. Which is the last thing she wants. Jo dreams of becoming a writer–a newspaper reporter.
Wild aspirations aside, Jo's life seems perfect until tragedy strikes: her father is found dead. The story is that Charles Montfort shot himself while cleaning his revolver, but the more Jo hears about her father's death, the more something feels wrong. And then she meets Eddie–a young, smart, infuriatingly handsome reporter at her father's newspaper–and it becomes all too clear how much she stands to lose if she keeps searching for the truth. But now it might be too late to stop.
The past never stays buried forever. Life is dirtier than Jo Montfort could ever have imagined, and this time the truth is the dirtiest part of all.
My summary/thoughts: 
Jo Montfort is an amazing girl who wants to be a journalist. Her father mysteriously dies (YES A MURDER MYSTERY!!) and she is DETERMINED to find out what happens. She meets Eddie, an adorably helpful newspaper journalist and they solve a mystery!!! YEssss I LOVE THESE TYPES OF BOOKS I'M SORRY. 
What I liked: 
IT'S A FREAKING MURDER MYSTERY!!! IT LOOKS LIKE A MURDER MYSTERY, IT SOUNDS LIKE A MURDER MYSTERY, AND IT IS A MURDER MYSTERY!  I CAN'T TELL YOU HOW MANY TIMES I'VE STARTED A BOOK THAT LOOKS LIKE A MURDER MYSTERY AND IT ISN'T! IT'S ONE OF MY BIGGEST PET PEEVES!!!
What I disliked: 
The asylum bit confused me. A lot. 
Favorite character: 
Eddie. 
I imagined him as Eddie Redmayne though I don't know…
I mean, the 1890s are almost the 1920s, when FBAWTFT is set…
And the name????!! 
Help??! 
Romance (if any) in a GIF:
Rated on a scale from Why'd I even read it? to I WANT TO BUY A COPY!!!
I WANT TO BUY A COPY!!!!!!!!!!!
---
Thank you, my sparse followers, for reading my post! 
Also my blog is in a timezon 4+ hours than mine??? IDEK so it's probably off schedule. Like you cared, anyway. BUT IDK someone's messed with this?? Fun. GOod luck.