I've been reading bunches of books this year! I've read about 20??? ALL ARE NEW BOOKS! BOOKS I HAVEN'T READ BEFORE!!!!!!!!
---
Here are a few.
(I'm trying so hard not to spoil anything but IDK I might have?)
Flame in the Mist by Renée Ahdieh
Summary:
The only daughter of a prominent samurai, Mariko has always known she'd been raised for one purpose and one purpose only: to marry. Never mind her cunning, which rivals that of her twin brother, Kenshin, or her skills as an accomplished alchemist. Since Mariko was not born a boy, her fate was sealed the moment she drew her first breath.
So, at just seventeen years old, Mariko is sent to the imperial palace to meet her betrothed, a man she did not choose, for the very first time. But the journey is cut short when Mariko's convoy is viciously attacked by the Black Clan, a dangerous group of bandits who've been hired to kill Mariko before she reaches the palace.
The lone survivor, Mariko narrowly escapes to the woods, where she plots her revenge. Dressed as a peasant boy, she sets out to infiltrate the Black Clan and hunt down those responsible for the target on her back. Once she's within their ranks, though, Mariko finds for the first time she's appreciated for her intellect and abilities. She even finds herself falling in love—a love that will force her to question everything she's ever known about her family, her purpose, and her deepest desires.
My summary/thoughts:
A young princess finds herself in a sticky situation. Instead of panicking, she disguises herself and becomes a warrior. She cannot expose herself. Oops… Oh yeah, she falls in love…
What I liked about it:
I really liked how she disguises herself as a boy and becomes a warrior. It gave me Mulan vibes and I LOVE Mulan.
What I disliked about it:
The evil dude group was kinda confusing… She tries to run away from it… she works for it… she doesn't… WHAT?
Romance (if any) in a few words:
Hmm… Could be better.
Rated on a scale from 1 to 10:
I'd give it an eight.
---
The Girl of Fire and Thorns: by Rae Carson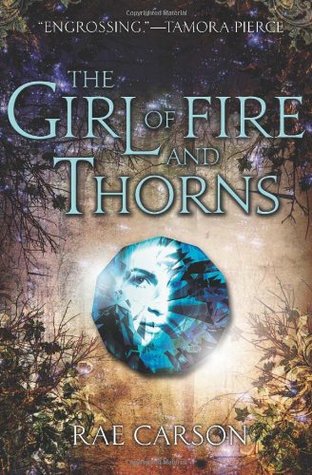 Summary:
Once a century, one person is chosen for greatness.
Elisa is the chosen one. 
But she is also the younger of two princesses, the one who has never done anything remarkable. She can't see how she ever will. 
Now, on her sixteenth birthday, she has become the secret wife of a handsome and worldly king—a king whose country is in turmoil. A king who needs the chosen one, not a failure of a princess.
And he's not the only one who seeks her. Savage enemies seething with dark magic are hunting her. A daring, determined revolutionary thinks she could be his people's savior. And he looks at her in a way that no man has ever looked at her before. Soon it is not just her life, but her very heart that is at stake.
Elisa could be everything to those who need her most. If the prophecy is fulfilled. If she finds the power deep within herself. If she doesn't die young.
Most of the chosen do.
My summary/thoughts:
Elisa, an unordinary princess, is wed to an absolute butt trumpet, Alejandro. Eventually, Elisa is kidnapped or something because of that weird stone in her belly. Lots of things happen and eventually, Mr. Butt Trumpet is gone and Elisa moves on. 
(Butt trumpet)
What I liked:
I really liked how:
A POC I think…
she's not A TYPICAL SKINNY PRINCESS (Disney, take notes)
SHE EATS WHATEVER THE HECK SHE WANTS EVEN THOUGH SHE HATES BEING OVERWEIGHT
I've heard people complain about her losing so much weight and then magically having power.
WEll. She is still described as 'fat' later in the book, and she has more power later because the king died and she took his place. The leading rebels part was kinda just a side thing. I didn't understand it fully.
What I disliked:
Well, for one, it was difficult to understand what kind of race we're talking about here.
And, for two, HECTOR ISN'T AN OLD MAN? When I read the sequel I was in shock. He sounded like an old man from the way he was written in the first book. Maybe I missed something?
Romance (if any) in a few words:
EWWWWW NO KING AL! YOU'RE ANNOYING AND Humberto? YOU ARE KINDA ANNOYING TOO.  (that was more than a few words)
Rated on a scale from 1 to 10:
I'd give it a seven.
---
Ink, Iron, and Glass by Gwendolyn Clare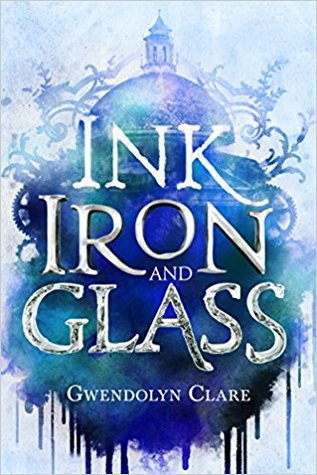 Summary:
Can she write a world gone wrong?
A certain pen, a certain book, and a certain person can craft entirely new worlds through a branch of science called scriptology. Elsa comes from one such world that was written into creation, where her mother―a noted scriptologist―constantly alters and expands their reality.
But when her home is attacked and her mother kidnapped, Elsa is forced to cross into the real world and use her own scriptology gifts to find her. In an alternative Victorian Italy, Elsa finds a secret society of young scientists with a gift for mechanics, alchemy, or scriptology―and meets Leo, a gorgeous mechanist with a smart mouth and tragic past. She recruits the help of these fellow geniuses just as an assassin arrives on their doorstep.
In this thrilling debut, worlds collide as Elsa unveils a deep political conspiracy seeking to unlock the most dangerous weapon ever created―and only she can stop it.
My summary/thoughts:
Elsa's mom has gone missing. She travels to the real world to save her, blah, blah, blah. Oh yeah, she sees Leo and has a big crush on him and they eventually kiss in the middle of the night. Alone. Yah.
The world Elsa lives in was written into existence. If someone else gets the right tools, they could force the people of her world to fart rainbows or eat slugs. 
THIS BOOK HAD POTENTIAL. SO MUCH POTENTIAL WASTED.
IF COPYRIGHT WASN'T A THING I'D REWRITE THIS BOOK. 
What I liked:
Leo. He was adorable and reminded me of Rick's Leo. (I noticed the Percy Jackson fandom has collectively given up on spelling his last name)
Leo is a smartass mechanic who loves pranks and being alone and screaming through the night. Alright, he just has nightmares, whatever.
What I disliked:
Everything else. It was not as beautiful as the cover. WHY. She could have worked on it a little tiny bit more and it would be MAGNIfICENT! It was just kinda dark and dreary and dull. Just like writing with a dull pencil on a rainy day when the power's out.
Just work on the writing. Please. The ideas and the characters were AmAzInG. Sadly, the writing and plot, the key elements, were not up to scratch. The plot was more boring and predictable than… Marvel's SHIELD TV show? Maybe? (I've only watched two episodes and figured out the plot and love interests and everything for the rest of the season)
Romance in a few words:
NOOOOOOOOOOOOOOOOOOOOOOOOOOOOOOOOOOOOOOOOOOOOOOOOOOOOOO
Rating on a scale from 1 to 10:
3. Albus Severus Potter's name is better than this entire book.
---
Alright. I may have been *slightly* over the top on the bad reviews…
Oops.